TEAS Distance Testing
The TEAS exam is used to evaluate entry level skills and abilities of nursing program applicants.
Payment and Registration
Determine if you need to take the test
All students who are applying to the School of Nursing must take the TEAS. If you have any questions, contact the School of Nursing at (915) 747-8337.
Payment and registration is done through the ATI Testing website.
To register for a test session:
Go to www.atitesting.com/teas-prep

NOTE: Make sure to review the ATI TEAS Registration FAQs on this page if you need more information on the exam)

Scroll to the REGISTER FOR THE TEAS section of the page and click on the red "Start Registration" button (instructions)
If you have an existing ATI account, select "Sign In".  If you do not have an account, create one by selecting "Create an Account"

NOTE: It is important to remember your ATI login information.  YOU WILL NEED THIS ON EXAM DAY.  If you do not have your ATI login information, you will not be able to test. 

Follow the prompts to complete your registration
Day of the Test
LOCATION:

The comfort of your home. Please make sure you are in a location free from distrcation


Examinees are asked to arrive 15 minutes early for check-in. If you arrive late, you will not be allowed to take the test. 


IDENTIFICATION:

You will be required to present a valid,

government-issued ONLY

, UNEXPIRED identification card with a current photo.
Acceptable forms of identification include:

U.S. Driver's License 
Passport
U.S. Department of Public Safety Identification Card 
U.S. Military Identification Card 
U.S. Alien Registration Card 

IMPORTANT:

You will not be admitted to the test if you do not have any identification or if your identification does not meet the following requirements: government-issued, current photograph, signature, and permanent address.

UTEP Identification cards are NOT acceptable
You will not be allowed extra time to obtain proper identification.  If you do not have proper identification before the test reporting time, you will not be allowed to test

ATI WEBSITE LOGIN INFO:

You are required to know your ATI Testing login information (username and password).  The Student Assessment & Testing staff does not have access to this information.


IMPORTANT:

If you do not know your login information, you will not be able to test.
This information can be found on the ATI Testing website (scroll down to Questions? You're not alone): https://www.atitesting.com/teas/register/
Test Schedule
To view available test dates, click HERE.
Scores
You will be able to view your score immediately after completing the test.
The Student Testing Office does not provide printed copies of score reports. 
You will be able to view your scores at home under the Results tab on the ATI Testing website. 
For UTEP students: If you would like to get score interpretation, please contact the School of Nursing at (915)747-8337 or send an email to  nursing@utep.edu.
Test Length
Total test time is approximately 3.5 hours.
The TEAS is an Internet-based, multiple-choice, exam that assesses a student's abilities in four essential subject areas: reading, math, science, English and language usage.
ATI TEAS Version 7 Exam
The new version of the ATI TEAS exam was released June 3, 2022.
**NOTE: Personal calculators are not allowed (A calculator is embedded in the test)

As you can see in the comparison chart below, the ATI TEAS Version 7 will be adding a chemistry subcategory and a biology subcategory to the overall science category, an expansion of the English and language usage category and many other small content changes.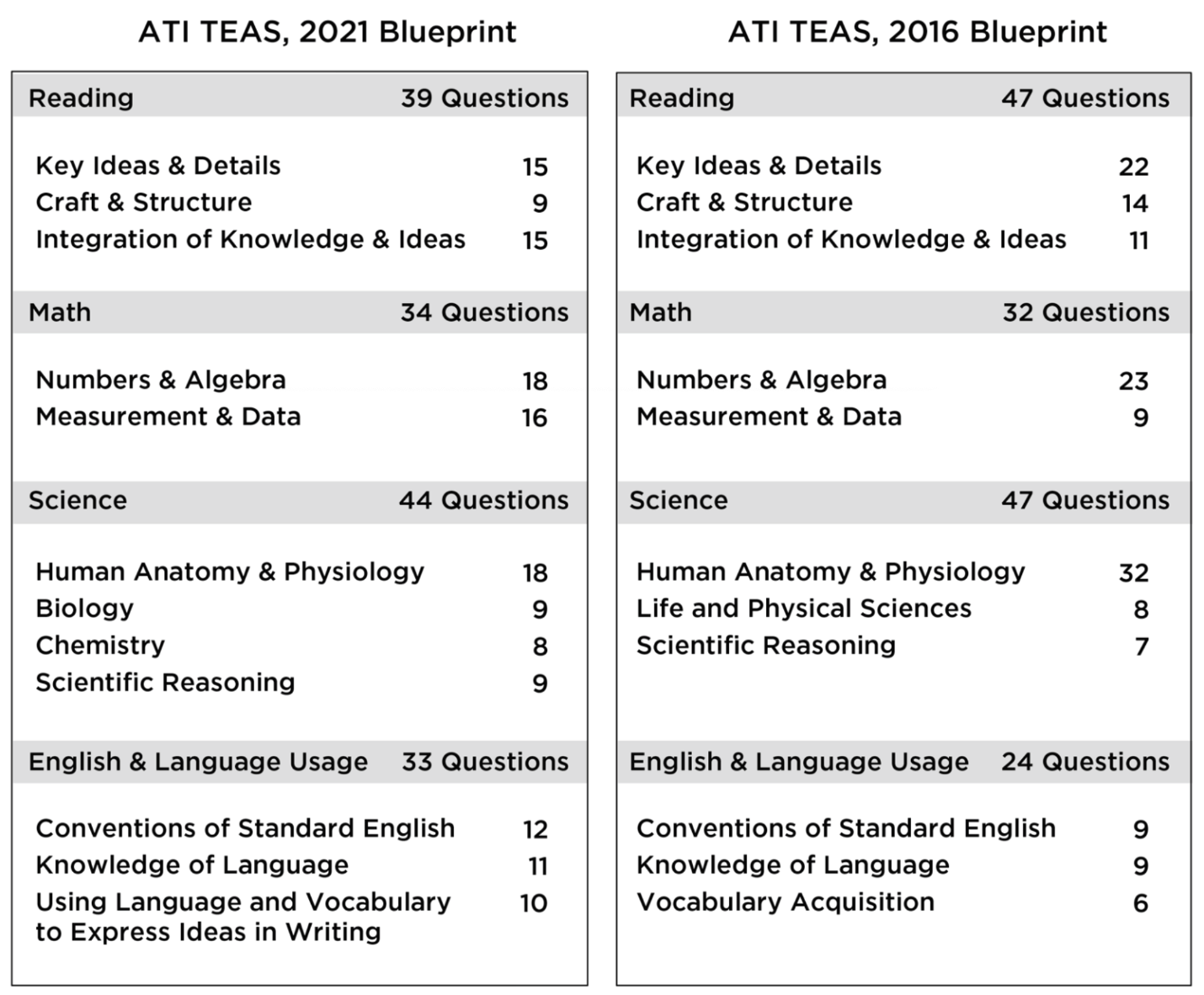 In addition, the ATI TEAS Version 7 will have multiple question types or item types beyond multiple-choice. All answers will be scored correct or incorrect. No partial credit will be given to these alternate item type questions. ATI TEAS Version 7 question types include:
Multiple-Choice Item Types: questions that have four answer options with only one option as the correct answer. In addition to text, some multiple-choice items include charts, exhibits, and graphics.
Alternate Item Types: These refer to questions that are not your standard multiple-choice, single answer questions. Currently, there are four different alternate item type questions on the ATI TEAS Version 7 exam:

Multiple Select items: Students will be presented with a list of four or more possible answers to a question and more than 1 may be correct. There will be a note on these question types to "Select all that Apply." To answer the question correctly, the student must select all correct answers. If all correct answers are not selected, then the question is incorrect. No partial credit is given.
Supply Answer items: This question type requires students to provide the answer to the question or "fill in the blank" without a set of options. Answers may be text or numerical values.
Hot Spot items: These questions include an image with two to five clickable areas. Students are required to click on the area of the image identified as the correct response.
Ordered Response items: These questions require students to place a set of response options in the correct order. Students drag between four and six response options from a box on the left to an empty box on the right. The question is answered correctly only if the student places all correct options in the correct order within the box on the right. If an option is out of order, then the question is incorrect. No partial credit will be given.
Retake Policy
Check your institution policy on retakes.
RETAKE Policy for UTEP students:
As of 6/29/2022: The TEAS test may be taken as many times as needed to pass with a composite score of 62% or better by the TEAS application deadline:


Spring 2023 Phase 2: October 31, 2022
Summer 2023 Phase 2: March 1, 2023
Fall 2023 Phase 2: May 31, 2023

There is no wait period between attempts
If you plan to take your TEAS exam on campus in the UTEP Library, please read the following procedures:
You must request a study room at the Access Services Desk (747-5672 or 747-5643)  and cannot walk-in.  There are a limited number of rooms available.
Notify the staff that you are taking the TEAS Exam and will require more time than the 3 standard hours check-out time.
Sit facing away from the door and window while your mask is removed.
You must also follow all other policies in place in the building, including No Food in the rooms.
PROHIBITED ITEMS
FOOD, DRINKS, HATS, MECHANICAL PENCILS, ALL TYPES OF ELECTRONIC DEVICES, ALL TYPES OF WATCHES, AND CONCEALED HANDGUNS ARE NOT ALLOWED IN THE TEST ROOM!
UTEP Codes: ACT: 4223; AP, CLEP, SAT, TOEFL: 6829; THEA: 357; DSST: 8021